August 9, 2019
New : Gambling School Review
Thriller school life around gambling and betting, Kakegurui (which means "compulsive bettor") is a good anime. It starts well, very well during the first three-four episodes. But the games run out of steam, until a very disappointing final episode.
Kakegurui tells the story of the arrival of Jabami Yumeko, a pretty and nice student at first sight, in a special high school. A high school of rich and influential children where everything is played with gambling. Until its own future … By remaining fixed on the school, the animated plunges us into this parallel society disgusting and capitalist to the tips of the nails. And it's very pleasant to see Yumeko arrive in school, and shake up this established order with his bet madness.
At first, we have fun. It's entertaining, exhilarating … But over the bets, it becomes a little redundant. Yumeko lets herself go, everyone worries but she does not seem to touch, then TWIST, it was planned. And she returns the situation at the last moment. We hoped, with the final episode of the duel against the president, that we are entitled to a real bet ultra-intense, as if sold well in the penultimate episode. But, the ending starts, and it's an end that's not an end at all.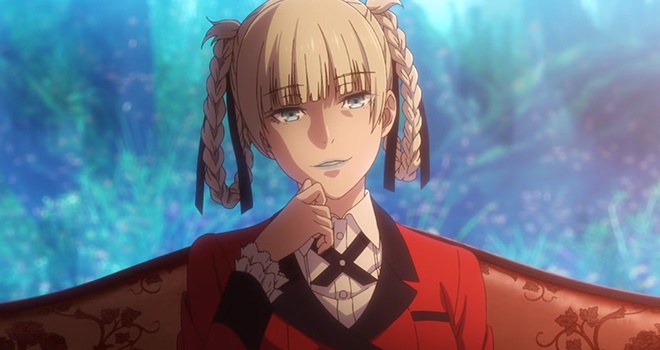 After, the character of Yumeko is a real sociopathic bomb, we take pleasure in seeing break the hopes of arrogant sons of rich. One point on which we can not reproach Kakegurui is its visual. Visually, it's shimmering. Realistic and generous chara-design, scenes of Yumeko's psychopathic excitement always very beautiful. Ambitious ambience and almost erotic, very consistent with the world of gambling and betting. Kakegurui, it's a good animated.
We enjoy watching these bets from another world, and a surprising and dangerous main character. Too bad it looks like a loop that is repeated in just 12 episodes, and that ends … like that.