May 25, 2019
Gem Review : Mushishi (2005)
Let's discover the Mushis, living creatures born from the shadows, which are at the very base of existence and visible by a limited number of humans. These creatures can take various forms and evolve alongside human beings with very different aspirations. Ginko is one of the people who can interact with them and who studies them: he is a Mushishi. He travels to help the people who face them, but also to satisfy his thirst for discovery.
A dreamlike universe mixing familiarity and discovery through ephemeral destinies and all related to the same thing: the Mushis. True hymn to perseverance and hope, Mushishi is a series that makes us find our child's soul while appealing to our experience. Finally an anime that knows both relax, surprise, move and amaze. Twenty-six epidodes that all have a charm and energy in their own right that no one can be indifferent to.
Each adventure with Ginko is a true story, a fable that enchants all our senses. The series paints a poetic fresco of existence and nature, leaning without heaviness on the smallest details of life, the most unsuspected – the most important. It changes endless and fierce fighting … a little modesty is a good thing. However, as much as the lack of action and continuity – each episode proceeds in the same way. Ginko arrives in a place at the beginning of the episode and helps different people – may displease some.
Each episode draws a different plot, with different places and characters. Despite the short time in which Ginko stays among them, it is impossible not to fall in love with the most beautiful landscapes and touching and unarmed characters in the face of this unpredictable nature. Especially since Ginko, the Mushis and the multiple landscapes are superbly drawn and animated.
Mystery, charisma, intelligence and generosity all concentrated in one man. A true traveling and altruistic library, he will not hesitate to help all the needy people he encounters on his way. The many characters that Ginko encounters are unfortunately all a little similar (both graphically and psychologically), but their destinies and their sensitivity makes us stick to it. It is unfortunate that Ginko does not reveal much about his past and his motives – only a few flashbacks will put us on the track. A great mystery hovers around his person, which makes his character unique and justifies the sympathy that we bring him.
Only driven by his desire for renewal, discoveries and encounters, he seems imperturbable and always sure of himself – by choosing to hide his feelings (he makes me think of Lucky Luke who goes away quietly, without asking anything, the cigarette in the beak.) But who is he? A Mushishi, or collector of Mushis, creatures located between life and death, between bacteria and animals. Of very varied and strange form, neither good nor bad in themselves, they take possession each in their own way of the nature or the human beings. The Mushis quest is a kind of mask, a pretext for rediscovering what we thought to be familiar, whether it is the nature around us or what we think we know about ourselves. Thanks to them, we discover a nature richer and more fascinating than it already is and mysteries just waiting to be pierced.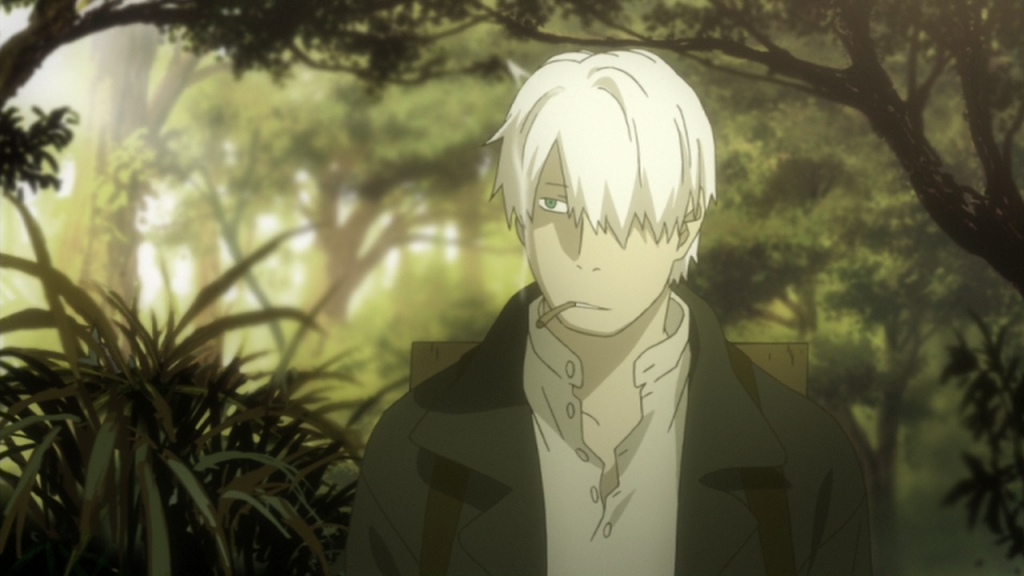 Mushishi has the gift of mixing sensitively and realistically supernatural facts with things we encounter in our everyday lives. All this with a lot of poetry. Each episode unfolds as a metaphor, a reflection on life, which does not always finish well. This series is another look at the world, one of the deepest and most subtle I have ever seen and felt. Landscapes, music and characters constantly bring us back to contemplation before a world that is revealed by its simplest apparatus: nature. An ecological and poetic message – but who knows how to remain simple – where it is impossible not to recognize oneself. All this without useless artifacts, as if to remind us of the importance of the simplest things, in a world where superficiality predominates. The different intrigues appeal to our sensibility with a great maturity and have the gift to bring back dreams of child.